CBI: Future fears fuel factory gloom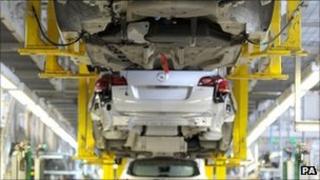 Manufacturers suffered their biggest fall in confidence in more than two years in October, according to a survey by employers' group the CBI.
Some 30% more businesses were pessimistic about the future than optimistic, the CBI said in its latest survey of industrial trends.
Firms also expected a decrease in orders, output and staff.
However, 6% more companies reported an increase in orders than a decrease during the three months to 30 October.
"Manufacturers saw modest growth in orders and production over the past quarter," said Ian McCafferty, the CBI's chief economic adviser.
"However, sentiment has deteriorated sharply and firms expect sizeable falls in activity over the next three months. The quarterly fall in sentiment is the largest since the height of the recession in mid-2009."
The figures are based on the CBI's quarterly survey of industrial trends conducted between 26 September and 12 October, which polled 446 manufacturing firms.
Export troubles
It added to recent evidence that the recovery in exports has come to a standstill.
Just 1% more companies saw an increase in export orders than saw a decrease, while 14% more firms expected them to fall than to stay the same or increase.
Firms reported difficulties obtaining credit, with 18% more saying they had trouble obtaining financing for export production than did not.
That is the highest negative number since October 1968.
Howard Archer, chief UK and European economist at IHS Global Insight, said the survey was "massively disappointing".
"The CBI survey fuels concern that the UK economy is in serious danger of contracting in the fourth quarter," he added.
Pay freeze
A separate study by manufacturers' organisation EEF reported increased numbers of pay freezes in manufacturing firms.
The EEF's pay data for the three months to September showed the average pay settlement was 2.5%, the same as the figure for the three months to the end of August.
But the survey found that pay freezes had increased from one in 10 to one in six settlements.
"Signs of pay freezes increasing could be a first sign of companies responding to the growing economic uncertainty," said Lee Hopley, the EEF's chief economist.