VW profits more than triple on strong demand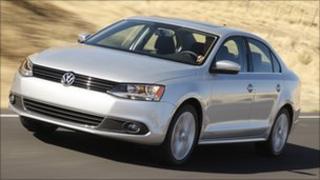 Volkswagen (VW) has said its net profit more than tripled in the third quarter as demand surged for its vehicles.
Nine months into the year, VW has already exceeded its annual profit for the whole of 2010.
Net profits jumped to 7.2bn euros ($10.1bn; £6.3bn), from 2.2bn euros in the same period last year.
But German rival Daimler said its net profit fell 16% in the third quarter to 1.36bn euros as the troubled European economy hurt Mercedes-Benz.
Pre-tax profits at Mercedes-Benz fell 15% percent to 1.1bn euros.
Daimler said in Western Europe, "there is little sign of any significant growth impetus".
'Strained debt situation'
VW said its global share of the car market climbed to 12.4%. It's shares rose 6.5% in early trading in Frankfurt.
With economic prospects in Europe looking subdued, the carmaker expects most of its demand to come from Central and Eastern Europe, as well as China and India.
"The strained debt situation in certain eurozone countries and the end of subsidy programmes will have a negative impact on demand for new vehicles in many Western European markets in the fourth quarter," VW warned.
Vehicle deliveries across VW jumped 14% to 6.2 million in the first nine months of the year.
The company sold 3.3 million Volkswagen-branded cars and 1.1 million Audi vehicles.
British luxury carmaker Bentley sold 5,000 cars, with its previous loss of 145m euros shrinking to 6m euros.
Later in the day, Chrysler reported a $212m (£132m) profit for the third quarter of the year.
The US carmaker had its second profitable quarter this year, having gone through bankruptcy proceedings in 2009.
In the third quarter last year, Chrysler made a loss of $84m.