Japanese factory output and household spending fall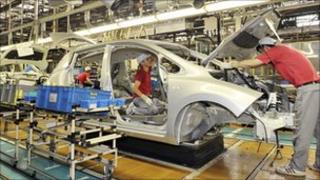 Japan's industrial output and household spending fell in September, raising fresh concerns about the health of its economic recovery.
Official data shows that factory output dipped 4% from August, while household spending fell by 1.9% year-on-year.
The drop comes amid concerns that a slowdown in key markets such as the US and Europe, coupled with a rising yen, may hurt Japan's recovery.
Japan was hit by an earthquake and tsunami earlier this year.
"After having rebounded following the March disaster, factory output is likely to stall until the year-end as overseas demand weakens," said Yuichi Kodama, of Meiji Yasuda Life Insurance.
Further slowdown?
The Ministry of Economy, Trade and Industry (Meti) said that manufacturers expected output to increase by 2.3% in October.
However, analysts warned that those projections may be revised down, not least due to uncertainty about global economic growth.
"There is the possibility that manufacturers' forecasts for October and November will be downgraded as overseas economies including emerging nations are slowing down, which could weigh on Japan's exports in the October-December quarter," said Mr Kodama
At the same time, Japanese manufacturers have also been hit hard by the floods in Thailand. All nine car manufacturers have been forced to shut down production at their factories in Thailand.
Other manufacturers, including electronics maker Sony, have also seen production facilities being shut due to flooding.
Analysts said these disruptions are likely to have a knock on effect on Japan's factory output as well.
"The floods in Thailand could also lead some companies to lower production in the future as it becomes more difficult to source parts," said Shuji Tonouchi, of Mitsubishi UFJ Morgan Stanley Securities.