Qantas strikes costing Australian airline A$15m a week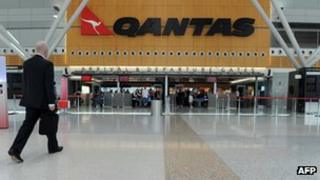 Qantas has said the ongoing strikes by members of three unions are costing the airline 15m Australian dollars ($16m; £12m) per week.
Workers have been striking against Qantas' plans to restructure the airline, a move than is expected to result in almost 1,000 job cuts.
Industrial action by the members has resulted in the cancellation of 129 flights and delayed another 387.
Qantas chief executive Alan Joyce warned the costs may escalate further.
"This drawn out and coordinated industrial campaign by these three unions is now having a major impact on Qantas," Mr Joyce said.
"A$68m is a significant impact on the company and the costs will continue to rise," he added.
'Unreasonable demands'
Tensions between the unions and the Qantas management started in August after the airline announced a restructuring and outsourcing plan.
The union members have voiced their concerns against the proposal, saying it will result in job cuts at the airline's Australian operations.
The airline has said that it has no other choice because its international operation was losing A$200m a year, mostly due to higher fuel prices, wages and a stronger Australian dollar.
The unions have also asked for a 5% pay increase for every year of a three-year agreement.
However, Mr Joyce said the three unions' demands would result in additional losses.
"Agreeing to the unions' unreasonable demands would have a far greater cost on the company including risking the future of Qantas," he said.
"We remain committed to our strategy to build a better and stronger Qantas."