Losses widen again at JJB Sports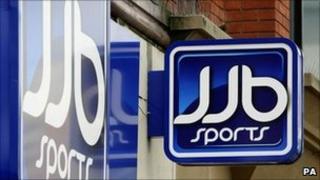 Troubled sports retailer JJB Sports has reported widening losses and warned of critical trading periods to come.
Pre-tax losses for the six months to the end of July came in at £66.5m, compared with £24m last year.
JJB said that its performance over Christmas, the January sales and next year's Olympics and European football championships would be critical.
The Wigan-based retailer said conditions were worse than had been expected.
As part of its turnaround plan, 41 of the 43 stores earmarked for closure have now ceased trading.
Like-for-like sales, which measure sales in stores that have been open for more than a year, fell by 17.7%.
"Our results for the half year have been impacted by the closing of unprofitable stores and the sell-out of old and obsolete stock," said JJB chief executive Keith Jones.
"Despite the consumer environment being extremely challenging and expected to remain so for the foreseeable future, our re-sized store portfolio and other cost-saving initiatives have allowed us to manage the business and maintain tight financial controls."