Honda to cut US and Canada output due to Thai floods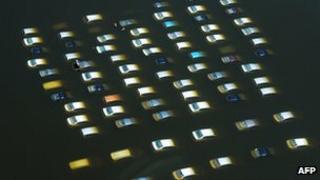 Honda has said it will cut production at its factories in the US and Canada by 50% due to a shortage of parts in wake of the floods in Thailand.
The company also withdrew its earnings guidance, saying the floods made it difficult to estimate the numbers.
On Monday, Honda reported that its net profit fell 55% to 60.4bn yen ($770m; £497m) during the second quarter.
Honda's output was also hit by the quake and tsunami in Japan earlier this year.
"As the flooding in Thailand continues, a number of Honda suppliers in Asia currently are unable to maintain parts production, which is disrupting the flow of parts to our production operations in North America," the company said in a statement.
Alternate supplies?
The floods in Thailand have affected many industrial estates and forced almost 1,000 factories to shut hurting supplies of parts.
Honda said it sources 'critical parts' from suppliers in Thailand and shortage of these was likely to impact production for 'several weeks'.
However, the company said it was "working closely with its suppliers in Thailand and throughout its global network to reestablish the flow of parts for the products made in North America".
Last week, another Japanese carmaker Toyota, said it was cancelling some production in Japan, because of a possible shortage of parts from flood-hit Thailand.
The world's biggest carmaker said it planned to suspend overtime work at a number of its factories as a result of the shortage.