China manufacturing activity slows amid growth concerns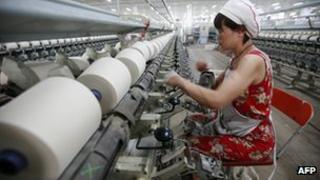 China has reported an unexpected drop in manufacturing activity raising fresh concerns about the impact of a global slowdown on its economy.
China's Purchasing Managers Index (PMI) fell to 50.4 in October from 51.2 in the previous month, the first drop in three months.
The data comes amid fears that a slowdown in the global economy may dent demand for Chinese goods.
Authorities warned that growth may slow even further.
"Future export and investment growth is expected to continue to decline," said Zhang Liqun of the China Federation of Logistics and Purchasing.
Slowing momentum
China's economic growth has been powered by the success of its manufacturing and export sector.
However, fears of a slowdown in the US and Europe, two of the biggest markets for Chinese exports, have raised concerns on whether the sector can sustain its growth.
The fears have been deepened further by today's data, which showed that the new orders index fell to 50.5 in October from 51.3 the month before.
Analysts said that as those regions grapple with economic problems, the effect was being felt by the Chinese manufacturers.
"The biggest concern is that the manufacturing sector's momentum is slowing," Rajeev Biswas of the IHS Global Insight told the BBC.
"The new export orders index is actually contracting and that is worrying as it highlights that the slowing demand from the US and Europe is starting to feed through to the Chinese export sector," he added.