Asia looks to G20 for stability support and bargains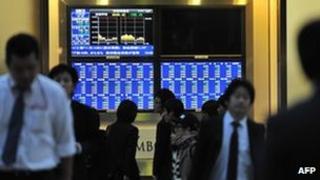 There is little doubt that the global economy is going through one its most challenging periods in recent times. The question is, will the leaders of the 20 most powerful nations be able to find a solution to fix it?
Among those debating and deliberating the options will be the leaders from China, Japan, India and South Korea, Asia's four largest economies.
They will be looking at counterparts, especially from the eurozone, to provide some stability at the least, if not a long-term solution.
India's Prime Minister Manmohan Singh has said that much work needs to be done in order to restore confidence in the markets over Europe's debt crisis, not least because it may derail Asia's growth.
"It is imperative that the difficult decisions needed to address the economic challenges in Europe and elsewhere are taken swiftly," Mr Singh said in a statement.
Asia's leading economies, with the exception of Japan, have witnessed robust growth in the past few years.
A large part of that growth has been powered by the success of the region's manufacturing and export sector, driven by demand for its products from the US and Europe.
However, things have changed drastically. Consumer demand in the US has been falling amid fears of a slowdown in its economy and a high unemployment rate.
At the same time, the ongoing debt crisis in Europe is threatening to derail an already fragile economic recovery in the region.
To make matters worse, the debt crisis has taken a dramatic turn with the decision of the Greek government to hold a referendum on the latest bailout package, a move that may jeopardise the rescue deal and eventually result in a Greek default.
Analysts said that any such development is likely to have a direct impact on Asian economies.
"Europe is a huge market for Asian goods, a crisis will hurt European growth and dent consumer demand," Michael Pettis of Peking University told the BBC.
Mr Pettis explained that a European crisis coupled with a slowdown in the US will be a massive blow for the region's economies.
"Everything is going wrong at the same time, which is the definition of a global crisis."
Double whammy
The growing uncertainty about the state of growth in Europe and the US has also brought along other problems for Asia, especially Japan.
An increasing number of investors have shifted from dollars and euros to buy the yen and yen-denominated assets, which are being considered by many as safer investments in times of such volatility.
That has seen the Japanese currency rise to post-war highs against the US dollar, prompting the Japanese authorities to intervene in the currency markets in a bid to protect their economic growth.
"Japan is quite concerned about the appreciation of its currency, which is partly driven by everyone looking for a safe-haven asset," said Prof Patrick Chovanec, of Tsinghua University.
A strong yen has the power to dent Japan's export-dependent growth as it makes goods more expensive for foreign buyers and also hurts profits of exporters when they repatriate their foreign earnings back home.
"They are trying to recover from the earthquake and tsunami, and the European crisis is becoming a big obstacle for that," Prof Chovanec added.
Earlier this year, Japan teamed up with G7 nations for a co-ordinated action in the currency markets to stem the yen's rise. Analysts said it is likely to seek support of the G20 nations to ensure that the ongoing global uncertainty does not hurt its economy.
Hard bargains
While the European debt crisis has become a threat to the Asia's growth, it has also presented an unexpected bargaining tool to the Chinese authorities.
Faced with the mammoth task of bailing out debt-ridden nations and recapitalisation banks exposed to them, eurozone leaders have turned to China for funding help.
With almost $3.2tn (£2tn) in foreign exchange reserves, China has enough fire power to help them out.
However, analysts say Beijing may use this opportunity and the G20 summit to do some hard bargaining in return.
"The concessions they may be after is greater say at the International Monetary Fund (IMF) with voting rights and a market economy status," said Alistair Thornton of IHS Global Insight.
But Mr Thornton added that it was unlikely the G20 nations would accede to China's demands.
"In order to get something like a market economy status or a dramatic shift in its say at the IMF, it will have to commit a substantial amount of money - something that is not politically possible within China," he explained.
China has also been facing increasing pressure from the US and other trading partners to allow its currency to appreciate. It has been accused of keeping the value of yuan artificially low in order to help is exporters.
Prof Chovanec said Beijing may use its current advantageous position to ask developed economies to ease off the pressure on its currency policies.
"They may say, if you want all this money, don't make too many demands of us,"