BMW profit up 21% in quarter on Chinese growth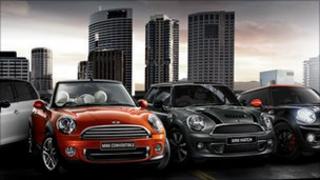 German carmaker BMW has said its pretax profit jumped in the third quarter.
Third-quarter profits rose 21% from last year to 1.6bn euros ($2.3bn, £1.4bn), higher than analysts had expected.
BMW sold 9% more automobiles in the third quarter than a year ago, driven by Chinese sales. Shares jumped 2.8%.
The company said it sold 1.23 million cars from the BMW, Mini and Rolls-Royce in the first nine months of the year, a new record.
The company's car sales were driven by a 21% jump in China, the world's biggest car market.
"If China slows down, we can still expect BMW to make good money in the US and hopefully Germany," Bernstein analyst Max Warburton said.
Fellow German carmakers Daimler and Volkswagen last week gave downbeat forecasts for demand in Western Europe, which has been ravaged by slowing growth and the eurozone debt crisis.
All carmakers have seen strong demand from Asia.