Personal insolvencies fall slightly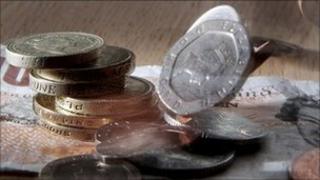 The number of people being declared insolvent in England and Wales fell slightly in the third quarter of 2011, while there was a small rise in corporate insolvency.
Personal insolvencies dropped by 1% from the second quarter of the year to 30,219, the Insolvency Service said.
In the same period, company insolvencies rose by 2% to 1,253.
Although the number of firms going bust is now 10% up on a year ago, personal insolvencies are down by 11%.
'On the brink'
"This is the fourth consecutive quarter where the level of personal insolvencies has remained around the 30,000 mark," said Louise Brittain, insolvency partner at Deloitte.
The debt advice charity the Consumer Credit Counselling Service (CCCS) said increasing numbers of people were likely to go bust soon because of high inflation, wage freezes and redundancies.
"There are millions of people teetering on the brink financially, whose household budgets are getting harder to manage every month," said Delroy Corinaldi at CCCS.
Brian Johnson, insolvency partner at accountants HW Fisher, said company insolvencies were also expected to rise further.
"The fall in manufacturing exports and consumer uncertainty about future prospects will mean that spending over Christmas is unlikely to come to the rescue of many beleaguered companies," he said.
"In the run up to Christmas and in the New Year we are likely to see a sharp spike in the number of corporate insolvencies."
Up and down
In the past year, the number of bankruptcies, the traditional form of personal insolvency, has been falling and is now down 31% on a year ago.
Meanwhile, the number of debt relief orders has been rising and the use of individual voluntary arrangements has fallen, then rebounded.
Pat Boyden, insolvency expert at accountants PwC, said the massive fall in bankruptcies was "the big story".
"This is the lowest quarterly figure since 2004, when we saw just under 9,000 people entering bankruptcy," he said.
"Consumers do not have the credit card and personal loan debt that they had five years ago - they have not been able to take on any more debt, partly because of the fall in new lending from banks and credit companies and partly because times are hard," he explained.