Public sector pensions: Row over impact of new offer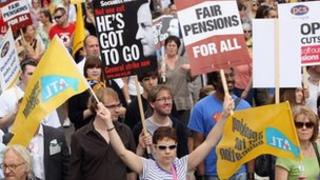 The government has denied disguising the impact of its suggested new public sector pension schemes.
Last week, the Treasury moderated its plans to bring in less generous career average schemes from 2015.
It suggested some staff would in fact be able to earn significantly higher pensions than they can obtain now.
But the trade union Unite has accused the government of trying to "pull the wool" over the eyes of its members.
The Treasury said the accusation it had been misleading anyone was "nonsense".
"We have made a generous offer and set this out in unambiguous terms," a spokesman said.
"Those more than 10 years from their retirement age will have to work a bit longer and those earning more than £15,000 will have to pay a bit more.
"But if you are on a low or middle income you will get at least as good a pension, if not better, than you get now," the spokesman added.
'Extraordinary claims'
Under the proposed changes, public service staff will work longer and contribute more for their pensions, the cost of which is being driven up because people are living longer.
Under the current proposals most staff will see their contribution rates rise in the next three years.
And their future pension ages in the career average scheme - due to come in for most current and all new staff in 2015 - will be linked to the state pension age, which is expected to rise eventually from 65 to 68.
But Unite has taken exception to the claim by the Chief Secretary to the Treasury, Danny Alexander, that some staff would in fact benefit from a higher pension under the new arrangements than under the current ones.
Unite's assistant general secretary, Gail Cartmail, said this could only be true if someone, such as a nurse, worked for an extra eight years to 68, after 43 years in the career average scheme, compared to someone retiring normally at 60 after just 35 years in the current final-salary version.
"Danny Alexander is making extraordinary claims in order to mislead and manipulate the public about the government's pensions proposals," she said.
"He's using distorted figures to conceal the way in which government proposals will reduce pensions," she added.
Day of action
Unite said its own calculations showed that a nurse who retired at 60 in the new career average scheme would have a pension 40% lower than a counterpart with an equivalent career but retiring at 60 in the final-salary scheme.
And working another five years to 65 would still leave them 20% worse off.
The union also accused the minister of glossing over the increased pension contributions that staff are being asked to make in the next few years, which it said would amount to some staff paying 50% more each year.
A national day of action co-ordinated by the TUC is being scheduled for 30 November.
Last week, the Unison trade union announced that its members had voted with a 78% majority in favour of striking against the government's plans.
They have now been joined by EIS teachers union in Scotland.
Five other unions have an existing mandate to join in, while 13 others are in throes of balloting their members.