Saab sales to Chinese owners may be scuppered by GM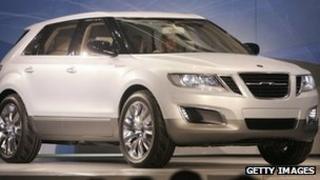 General Motors says it will stop supplying technology and cars to Saab if Saab is bought by Chinese investors.
Pang Da Automobile Trade and Zhejiang Youngman Lotus Automobile agreed to buy Saab for 100m euros ($138m; £86m).
Victor Muller, chief executive of Saab's current owner Swedish Automobile, said negotiations would now have to go "back to the drawing board".
GM said it would block existing technology licences and stop supplying the Saab 9-4x SUV.
GM sold the loss-making Swedish car marque in 2010.
It operates in China in partnership with SAIC Motor Corp.
"Although General Motors is open to the continued supply of powertrains and other components to Saab under appropriate terms and conditions, GM will not agree to the continuation of the existing technology licenses or the continued supply of 9-4X vehicles to Saab following the proposed change in ownership as it would not be in the best interests of GM shareholders," GM spokesman Jim Cain said.
Saab had to go to the Swedish courts in September to seek protection from its creditors. It was on the verge of liquidation when the Chinese investors agreed to buy it and inject enough funds into the business to resume production and pay off its debts.