Vodafone lifts profit outlook on emerging markets sales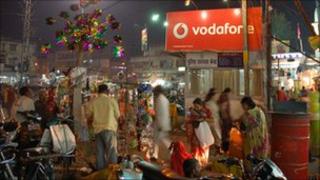 Vodafone has raised its profit outlook as emerging markets and UK demand made up for losses in southern European.
The mobile operator reported pre-tax profits for six months to September of £8bn ($13bn) slightly down from £8.2bn in the same period last year.
Vodafone upped its full-year operating profit forecast to £11.4bn-11.8bn from £11bn-11.8bn previously.
The firm was hurt by eurozone problems, including a £450m write-off of the value of their Greek business.
Vodafone also suffered tightening profit margins in the competitive Spanish market, as well as falling revenues in Italy.
Strong growth
Profits in its latest financial results were boosted by six-month revenues in Turkey up 28% and India up 18.4%. There were also robust performances in the UK, Germany and the Netherlands.
Chief Executive Vittorio Colao remained optimistic: "Although the macroeconomic outlook is uncertain, we are confident that we can continue to execute successfully in the second half of the financial year."