CBI cuts UK growth forecasts but backs austerity plans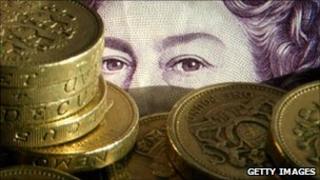 Business organisation the CBI has cut its forecast for UK economic growth, but called for government austerity to continue.
Growth is expected to be just 0.9% this year and 1.2% in 2012, below its previous predictions of 1.3% and 2.2%.
The unemployment rate is forecast to rise from 8.1% now to 8.5% next year.
But the CBI expects the UK to narrowly avoid recession over the winter, and said spending cuts must continue to protect the UK's AAA credit rating.
"The government must stick to its plans to bring down the deficit to maintain confidence in the UK's public finances and keep the cost of borrowing down," said CBI director general John Cridland.
However, current government deficit forecasts are based on much more optimistic growth forecasts than the CBI's, set by the Office for Budget Responsibility in March, for 1.7% expansion this year and 2.5% next.
The CBI blamed the turmoil in the eurozone - with a looming recession on the continent expected to badly hurt UK exports and business investment - for its much more pessimistic outlook.
The gloomy jobs outlook, with the CBI expecting unemployment to hit 2.75 million next year, was confirmed by a separate monthly report from accountants KPMG, which said that the number of permanent jobs in the UK fell for the first time in more than two years in October.
"Nervous employers are placing recruitment decisions on hold amidst concerns over the economic outlook, in many cases choosing instead to plug gaps with temps," said Bernard Brown, KPMG's head of business services.
Like the Bank of England, the CBI expects inflation to start falling back in the new year, dropping to the Bank's target rate of 2% by 2013.
In what it called "Plan A+", the business lobby group recommended new measures to help the economy, in particular attracting £200bn of private sector investment into infrastructure over the next five years.
Other measures - costed at £500m per year - were aimed at energy-intensive industries such as steel and chemicals, the housing market and youth unemployment.