Used car seller Carcraft criticised by OFT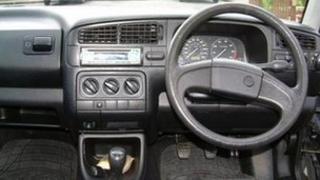 Used car seller Carcraft, which has 11 car supermarkets in England and Wales, has been criticised by a regulator for its pre- and post-sales service.
Some customers complained that their vehicles suffered significant problems shortly after they bought them from Carcraft.
The Office of Fair Trading (OFT) found that the advertised 120-point pre-sale inspection was not always completed.
The company has promised to change its business practices.
Complaints
Carcraft has outlets in Rochdale, Newport, Sheffield, Knowsley in Merseyside, Wednesbury in the West Midlands, Leeds, Birtley in Tyne and Wear, Lakeside Retail Park in Essex, Trafford, Enfield and Chertsey.
The watchdog found that the company did not repair or replace some cars which were unsatisfactory, and misled customers about the scope of its after-sales guarantee.
Other concerns included:
Failing to make clear the terms of motor finance to customers, such as the level of repayments
Not making clear to some customers that the after-sales guarantee came with a charge, rather than being free
Allowing some customers to drive vehicles off its premises without valid road tax
"Car buyers often choose to purchase from a large dealer in expectation of peace of mind," said Cavendish Elithorn, of the OFT.
"Carcraft promised customers that it aimed to help them 'find the perfect car with confidence', but we do not think its practices ensured that it always lived up to expectations or met its legal obligations.
"The industry should take note of our action against Carcraft."
Last year, the OFT warned used car dealers they must comply with the law or face enforcement action, after receiving high levels of complaints.
A spokesman for Carcraft said: "We take customer service and satisfaction extremely seriously and we are genuinely sorry that in the past some customers did not receive the levels of service we currently offer.
"We handle every issue individually and in recent years we have made changes to many of our products and services to ensure we better meet customers' expectations, a fact the OFT now acknowledges."
An OFT report in March last year gave a damning verdict of the UK's £24bn secondhand car market.
It said one in five of the 3.6 million people buying a secondhand car from a dealer each year experienced a problem. Secondhand cars regularly top a list of the most common consumer gripes, according to helpline Consumer Direct.