BAA passenger numbers dip as downturn bites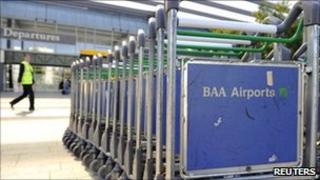 The number of passengers using BAA's UK airports dipped in October, reflecting weak global economic conditions.
Passenger numbers were down 1.3% last month compared with the same period a year ago, the airports operator said.
At London's Heathrow, numbers fell 1.3%, the first monthly fall since December 2010 and "indicative of the softening in the global economy".
BAA's Scottish airports saw user numbers rise, but overall the company saw a 9.9% fall in domestic UK traffic.
This was offset by a 1.2% rise in passengers on European flights and a 1.1% increase in traffic on North American routes.
Forced sale
BAA currently runs six airports in the UK: Heathrow, Stansted, Southampton, Glasgow, Edinburgh and Aberdeen.
However, earlier this year the Competition Commission ordered BAA to sell Stansted and one of its Scottish hubs, Glasgow and Edinburgh.
BAA has requested a judicial review of the ruling that it must sell Stansted, but last month it announced it would sell Edinburgh Airport, with the deal due to be completed by summer 2012.
Passenger numbers at Edinburgh airport were up 1.8% in October from a year ago.
"Edinburgh Airport has shown itself to be a strong and resilient asset throughout the economic downturn with passenger numbers growing by more than 8% this year, " said BAA chief executive Colin Matthews.
"The reduction in passengers at Heathrow is indicative of the softening in the global economy. We remain cautious about predicting growth in the coming months."