UK producer price inflation falls back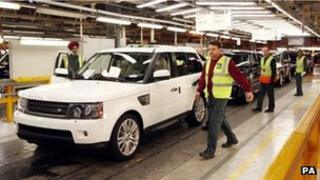 The rates of increase in UK wholesale prices, and in the cost of inputs faced by British factories, have fallen back.
Producer price inflation, a measure of the price of goods as they roll off production lines, fell to 5.7% last month from 6.3% in September, the Office for National Statistics said.
Factory input prices also slowed, to 14.1% from 17.7% in September, thanks to falling oil prices, the ONS said.
The data is watched closely by the Bank of England's rate-setting committee.
The headline producer price inflation rate was the lowest since May and undershot market expectations for a 5.9% year-on-year rate.
The core rate of producer price inflation - which strips out volatile food and energy prices, giving a better indicator of long-term inflation trends - also fell, to 3.4% from 3.8% in September.
Meanwhile, the ONS also revised down its estimate of construction output in the third quarter of the year, to give an increase of just 0.2% as against a year earlier, compared with its previous estimate of a 0.6% rate.
The data, together with disappointing September trade figures released on Wednesday, add to the Bank of England's case for increasing its programme of quantitative easing - buying up more UK government debt in order to pump cash into the struggling economy - despite consumer prices inflation running at more than double the Bank's 2% target.