Dubai Airshow: Emirates eyes new global routes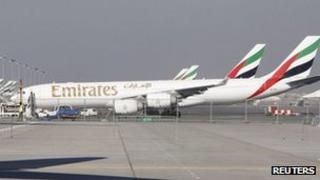 Dressed in traditional, flowing national dress and commanding the attention of everyone in the lavish Royal Enclosure at the Dubai Airshow, HH Sheikh Ahmed Bin Saeed al-Maktoum is all smiles, cracking jokes as he enters the room.
The chairman and chief executive of Dubai government-owned Emirates Airline & Group certainly has reason to be cheerful.
At a time when many governments in the industrialised world are finding it hard to borrow money, Sheikh Ahmed has just completed a deal to buy $26bn worth of new aircraft from the US aerospace giant Boeing.
And unlike many rival airlines, Emirates will find finance with ease, in spite of - or perhaps thanks to - the eurozone crisis that has made the banks more picky about whom they lend money to.
"I believe some banks have a lot of cash and they are looking to invest it somewhere," Sheikh Ahmed told the BBC in an interview.
"For us, financing never really was a problem."
Leading airline
There are no Emirates planes among the dozens of aircraft on display at the Dubai Airshow.
Instead, Emirates' fleet is almost constantly visible in the background, with one taking off every few minutes throughout the day from the runway that runs parallel to the show.
Emirates already has a fleet of some 161 wide-bodied aircraft with orders for a further 190 - and that is not counting this week's $18bn order for Boeing 777 planes, with options for planes worth a further $8bn.
"Emirates is certainly powerful," observes Howard Wheeldon, analyst with BGC Partners.
"It is the largest airline in the Middle East and in fifth or sixth position worldwide."
Emerging markets
But that, insists Sheikh Ahmed, is not the end of it.
Rather than slowing down its expansion, Emirates is gearing up its efforts to draw new routes onto the world map, expanding ever deeper into emerging markets while at the same time pushing ahead with expansion plans in the industrialised world.
"Asia is a very important market for us, if we talk about the sub-continent," Sheikh Ahmed says.
"China is also very important for us, and you should not forget Africa.
"And there are many areas in South America we can cover from here, thanks to the long-range aircraft we have."
Emirates' resources includes a large and growing fleet of giant Airbus A380 aircraft, as well as Boeing 777 and Airbus A330/340 planes.
However, its strongest competitive advantage is perhaps the location in Dubai, which is set to emerge as the world's largest aviation hub with direct links to an ever-growing number of destinations.
Rivals in the aviation industry often insist Emirates enjoys unfair advantages, such as different regulations and better conditions - with some even suggesting the airline pays less for its fuel than rivals do.
Sheikh Ahmed, who is also president of Dubai's Department of Civil Aviation, rejects such criticism and insists the playing field is level.
"Regulation is all the same for everyone with regards to aviation," he says. "And we don't have cheaper fuel. We use all the fuel companies and we pay international prices."
Risky expansion?
Fuel costs have become a major source of concern, however, as they now make up some 43% of Emirates' costs, up from 28% last year and 14% a decade ago, Sheikh Ahmed says.
Coupled with a reduction in seat capacity from 81.2% to 79%, this pushed its profits down to 827m dirhams ($225m) for the six months to 30 September, a 76% fall compared with the same period a year earlier.
Consequently, some industry observers believe Emirates should curb its ambitions, at least while times remain tricky.
"Fuel effects may explain the sea change in profits, but the decline in load factor is perhaps the greater concern as the airline continues to add huge amounts of capacity in the next few years," says Sudeep Ghai, a partner at Athena Aviation.
Crisis is the norm
Sheikh Ahmed thinks differently.
Rather than change strategy during times of trouble, he says that it is important to realise that events, such as the Arab Spring uprising, the eurozone crisis or natural disasters such as the earthquake in Australia or the tsunami and quake in Japan, will keep occurring.
As such, seemingly abnormal events should be considered normal business that must be dealt with directly, rather than avoided.
As is the case with clouds and bad weather facing aircraft, "there is always a way to get over it or to get through it," he says.
"We always expect that there will be difficulties. The world will never be free of problems."