House sellers drop asking prices by 3.1%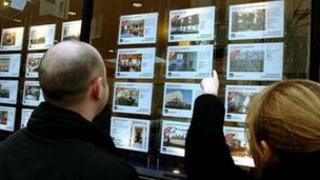 The asking price of homes being put up for sale has fallen by 3.1% in the past month, according to the property website Rightmove.
The average asking price of newly marketed properties fell during November by £7,528 to £232,144.
Rightmove said prices, and the number of homes up for sale, were being depressed by economic uncertainty.
The fall in asking prices was the biggest in cash terms that Rightmove had recorded since December 2007.
It was also the third largest in percentage terms recorded so far.
Miles Shipside of Rightmove said the usual seasonal slowdown had now started early.
"The relentless stream of economic uncertainty around the eurozone crisis has eroded consumer confidence to the extent that it now dominates decisions when it comes to moving home," he said.
"A 13% fall in the number of new sellers coming to market compared with the previous month, and an 11% fall compared with November 2010, illustrate a growing reluctance to make big financial decisions," Mr Shipside added.
Rightmove claims to advertise 90% of all UK homes for sale and says that 107,000 new homes were put on the market between 9 October and 12 November.
Over-priced?
There has been a dearth of potential home buyers in the UK property market since the onset of the credit crunch in 2008, which forced banks and building societies to start rationing their lending.
Most first-time buyers need to borrow money and currently they have to put down a deposit averaging 20% of the purchase price to obtain a home loan.
This has choked off the supply of buyers and helped to cut the overall level of sales to less than half that recorded before 2008.
However, despite this background, sellers and their agents have been remarkably reluctant to drop their asking prices.
Rightmove's figures show that since the end of 2008, the average asking price of homes has, for most of the time, fluctuated between £220,000 and £240,000.
With the Land Registry for England and Wales showing that the average selling prices in September was £162,109, it suggests that many homes put on the market are overpriced.
Property market commentator Henry Pryor said many sellers had been deluding themselves.
But he said the reality gap between asking and selling prices might start to narrow.
"So far we have not seen significant forced selling [but] as unemployment grows and problems in the euro zone infects the UK we are likely to see more people having to sell their homes," said Mr Pryor.
"I expect continued falls through next year, both of asking prices and more importantly of sale values," he added.