Lloyds prepares for extended chief executive illness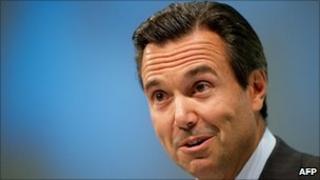 Lloyds Banking Group has announced its contingency plans in case chief executive Antonio Horta-Osorio extends his stress-related sick leave.
The bank says that Tim Tookey, who stepped in as interim head this month, will be replaced by David Roberts at the end of the year if necessary.
Lloyds is also in advanced talks with George Culmer of insurers RSA to replace Mr Tookey as finance director.
Lloyds said: "Antonio is continuing to make good progress in his recovery".
Stress leave
The bank had announced on 2 November that its chief executive was taking extended leave due to stress-related illness.
Tim Tookey, the bank's chief financial officer, had been due to leave Lloyds in February when he agreed to stand in for Mr Horta-Osorio at short notice.
Mr Culmer, currently finance director at Royal & Sun Alliance, is expected to take over as Lloyds' finance director when Mr Tookey leaves in February.
David Roberts, who has been a non-executive director of Lloyds since March 2010 and is chairman of its Risk Committee, is now scheduled to take over as interim chief executive if Mr Horta-Osorio fails to return by the end of the year.
"David Roberts has impressed his colleagues on the board and the group's senior management with his understanding and broad experience of the banking and financial services sector," said Lloyds chairman Sir Win Bischoff.
Lloyds also announced that Nathan Bostock, who it had announced July would be leaving Royal Bank of Scotland to become its new chief executive for wholesale banking, had now decided to stay at RBS.
Lloyds shares were down 6.6%, the worst performing bank stock on the FTSE 100 index.