Global markets down on debt fears in US and eurozone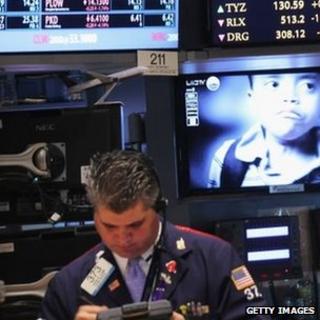 Markets worldwide have tumbled on fears over global debt - with another impasse confirmed in the US and continuing fears over the eurozone crisis.
The US Dow Jones index closed down 2.1%, and German and French indexes fell more than 3%.
The US committee charged with cutting the US debt - currently at $15tn (£9.5tn) - has admitted it has failed to find a resolution.
And Spain became the third eurozone member to change government.
In the US, talks between Democrats and Republicans on the Congressional "super-committee" charged with finding $1.2tn (£762bn) in savings to avoid automatic deep spending cuts collapsed.
Meanwhile there were reports the European Commission will discuss so-called eurobonds, in which the eurozone issues debt for all its members.
European markets were also rattled by news that credit rating agency Moody's has warned that recent developments could affect France's credit rating.
Moody's said the country's rating could be hit by recent rises in borrowing costs for the French government and a downturn in growth prospects.
"Elevated borrowing costs persisting for an extended period would amplify the fiscal challenges the French government faces amid a deteriorating growth outlook, with negative credit implications," the agency said.
Eurobonds
On Wednesday, the European Commission is expected to present a study of three options for joint debt issuance of the 17 countries sharing the euro, but without any conclusions or suggestions as to which one to choose.
Last Updated at 14:51 GMT
| Market index | Current value | Trend | Variation | % variation |
| --- | --- | --- | --- | --- |
| Dow Jones | 23533.20 | Down | -424.69 | -1.77% |
| Nasdaq | 6992.67 | Down | -174.01 | -2.43% |
| FTSE 100 | 6921.94 | Down | -30.65 | -0.44% |
| Dax | 11886.31 | Down | -213.77 | -1.77% |
| Cac 40 | 5095.22 | Down | -71.99 | -1.39% |
| BBC Global 30 | 9440.53 | Down | -219.84 | -2.28% |
The study brings the eurozone closer to discussing eurobonds - where the debts of each member in the bloc are collectively backed by all rather than individually as it has been since the euro was formed in 1999.
But Germany, the largest economy in Europe, has opposed such an idea and responded quickly.
"The chancellor and the federal government share the opinion of many others, that eurobonds are not now a sort of universal cure for the crisis," German Chancellor Angela Merkel's spokesman said.
Germany has been the largest contributor to the bailouts of its eurozone peers.
On Monday, European Central Bank member Juergen Stark warned that the crisis had spread from the periphery of the eurozone to the "most advanced" economies inside.
Spain election
Spanish markets fell despite a resounding victory for the country's centre-right Popular Party in the election.
Stocks in Madrid fell 3.4% while the government's cost of borrowing rose.
Last week, Spain's borrowing costs hit the highest since the eurozone was formed, when it sold 10-year bonds at an interest rate of 6.975% at an auction.
Crisis jargon buster
Use the dropdown for easy-to-understand explanations of key financial terms:
AAA-rating
The best credit rating that can be given to a borrower's debts, indicating that the risk of borrowing defaulting is minuscule.
The figure was perilously close to 7% - the level at which other eurozone countries have had to seek bailouts.
Although the Spanish government is not so heavily indebted compared to its eurozone peers, the country suffers from excessive mortgage debts following a burst property bubble, as well as heavy company debts.
Spain also has the highest unemployment in Europe, and its economic growth has stagnated.
On Monday, the yield - or implied borrowing rate - on the benchmark 10-year bond rose a fifth of a percentage point to 6.48%.
The Popular Party head and incoming prime minister, Mariano Rajoy, told supporters there would be "no miracle" to restore Spain's financial health.
Italian 10-year bond yields passed 7% earlier this month and, on Monday, yielded 6.63%.
In addition to the newly-elected government ahead in Spain, led by Mariano Rajoy, both Greece and Italy have seen their governments fall in the past three weeks.
Greece's new Prime Minister, Lucas Papademos, is in Brussels to persuade the European Union to release its latest slice of aid, even as one of his coalition partners refused to give a written pledge to support reforms.
Separately, billionaire investor Warren Buffett said that the crisis had exposed a "major flaw" in the eurozone.