MF Global customer cash shortfall 'doubles to $1.2bn'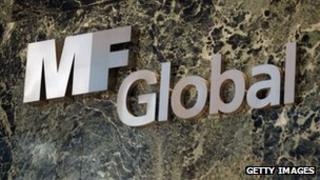 The shortfall in customer cash held by collapsed brokerage firm MF Global may have doubled to $1.2bn (£760m), according to liquidators.
Original estimates of a shortfall in customer cash were around $600m.
MF Global was run by former Goldman Sachs chief Jon Corzine before its Chapter 11 bankruptcy filing.
The bankruptcy came after the company, which is based in New York, revealed that it had made a $6.3bn bet on European sovereign debt.
Mr Corzine resigned from the company on 4 November.
Bankruptcy trustee James Giddens said: "The amount of money MF Global should have segregated for customers may be short by $1.2 billion or more."
He added that the figure could still change.
Mr Giddens is leading an investigation into claims that MF Global misused its customers' cash in its final days of trading to shore up its own finances.
He currently controls about $1.6bn of the brokerage's funds that he can use to pay back customers whose accounts were frozen when MF Global went bankrupt on 31 October he said.
His plans to pay back 60% of customer funds by early December would almost completely use up that cash.