Profile: Thomas Cook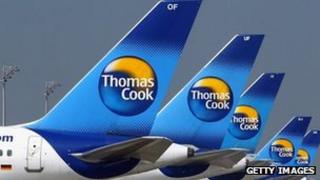 Thomas Cook is Europe's second biggest tour operator after Tui Travel.
It has 22.5 million customers in 21 countries, with brands including Neilson, Club 1830, Alba Tours and Neckermann Reisen.
It was founded by Thomas Cook who organised his first excursions in the 1840s.
He started out arranging short train trips for people attending temperance meetings. His excursions became more ambitious, and he was taken on to help transport workers from Yorkshire and the Midlands travelling to London to visit the Great Exhibition of 1851.
In 1855 he took his first groups overseas, visiting Belgium, Germany and France. He expanded his destinations to include North America and Egypt and then, in 1872, he led a world tour.
He was a pioneer of the package tour and also created the forerunner of the travellers' cheque.
The business was built up by Thomas' son, John Mason Cook, and then sold by his grandsons to the Belgian Compagnie Internationale des Wagons-Lits et des Grands Express Europeens, which operated the Orient Express, in 1928.
After World War II, the company was taken on by Britain's four mainline railway companies, which then became state-owned under British Railways in 1948.
In 1972 it was privatised and bought by a consortium of Midland Bank, Trust House Forte and the Automobile Association.
Midland Bank eventually became the sole owner, and sold the business in 1992 to Westdeutsche Landesbank and the German charter airline LTU Group.
In 2001 it was itself acquired by the German company C&N Touristic AG, which changed its name to Thomas Cook AG.
In 2007, Thomas Cook merged with MyTravel Group.
Earlier this year, Thomas Cook and the Co-Operative Group merged their High Street travel agent businesses, giving them 1,200 outlets between them.
At the same time, the business was having problems due to political unrest in two of its key destinations: Egypt and Tunisia.
After issuing three consecutive profit warnings, chief executive Manny Fontenla-Novoa departed the company, followed just over a week later by the head of its UK retail division, Ian Derbyshire.
The deputy chief executive, Sam Weihagen, has taken over on an interim basis.
At the time, the company's chairman said: "The board is focused on restoring market confidence in the group, which has been impacted by concerns over debt levels and the poor performance of our UK business."
On 21 October, Thomas Cook announced it had negotiated new lending facilities to allow it an extra £100m credit, which led to a rise in the share price.
But overall, its shares have fallen about 95% this year, amid concerns about the impact of high fuel prices, political unrest in Egypt and Tunisia and flooding in Thailand.
And only a month later, the group has said it needs to arrange another £100m credit.