House sales still down from 2010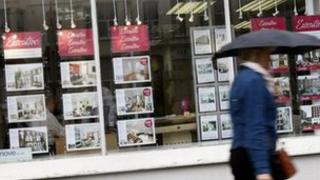 House sales in the UK are still lower than last year, official figures show.
HM Revenue & Customs said 76,000 homes were sold in October, just 1,000 more than in September, but still 3,000 fewer than in October last year.
It means that sales for the year so far have been 5% down on 2010, due to the poor state of the economy and rationing of mortgage funds.
Meanwhile the property website Zoopla said 40% of all homes currently for sale have had their asking prices cut.
The average reduction from the original asking price is now nearly £20,000, or 7.4%, it said.
"The amount by which sellers have reduced their price expectations has risen significantly over the past 12 months, with the average property now being discounted by £3,500 more than this time last year," said Nicholas Leeming of Zoopla.
He said the price cuts were becoming more common as sellers became more realistic and more desperate in a depressed market.
"With the latest economic forecasts for 2012 looking decidedly gloomy, sellers may have to reduce their expectations further if they are serious about making a move," Mr Leeming added.
This latest data chimes with a recent report from another property website Rightmove, which claims to advertise more than 90% of all homes for sale in the UK.
On Monday it said that the asking price of homes being put up for sale had fallen by 3.1% in the past month - the biggest fall in cash terms since December 2007.
The average asking price of newly marketed homes fell during November by £7,528 to £232,144, Rightmove said.
However, this still leaves asking prices far higher than the actual selling prices recorded by the Land Registry for England and Wales.