Commerzbank shares fall 15% on capital fears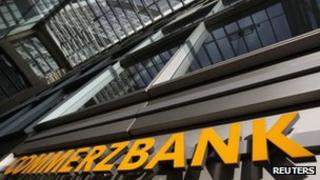 Shares in Commerzbank have closed down 15% following reports that it may need more capital.
Reuters cited unnamed sources as saying that Germany's second largest bank needed an extra 5bn euros ($6.7bn, £4.3bn) to build its core capital.
That is well above the 2.94bn euros the bank had previously said was needed.
Shares in the loss-making company, 25%-owned by the German government, had fallen by 17% at one point. The bank declined to comment on the reports.
Commerzbank reported a 687m-euro loss in the third quarter, largely attributed to its exposure to Greece.
The possible higher capital requirement for Commerzbank could raise questions about whether the German banking sector as a whole requires extra funds.
Last month, the European Banking Authority calculated that Germany's banks would need about 5.2bn euros.
Shares in Germany's biggest bank, Deutsche Bank, ended 3.4% lower.