Entrepreneurs 'optimistic' about year ahead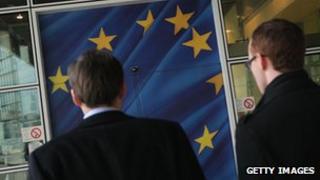 Many more entrepreneurs in Europe and the US are optimistic than pessimistic about the year ahead, despite the debt crisis and general fears of a global slowdown, a survey suggests.
Almost half of respondents were optimistic compared with a quarter that were pessimistic, Hiscox said.
However, there was a "significant fall" in optimism compared with a similar survey conducted in February 2010.
Almost half of those surveyed in Europe said the debt crisis had affected them.
The survey also suggested many entrepreneurs in Europe questioned the value of the European Union (EU).
More than 40% of respondents said the EU was not helpful to their business, while 20% said it was.
Despite pressures on banks, almost three-quarters of respondents said their relationship with their bank was unchanged.
The survey was carried out for insurer Hiscox among 3,000 small and medium-sized companies in the US, the UK, France, Germany, the Netherlands and Spain.
Recent surveys in the UK and Germany have suggested business confidence is falling, partly due to the continuing debt crisis that EU leaders have so far been unable to resolve.