Ex-Olympus CEO says police inquiry is right approach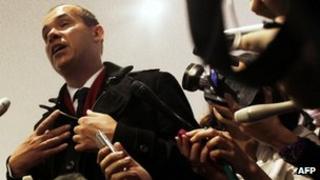 Michael Woodford, the ex-Olympus chief executive has said a police inquiry would be "the right way" to investigate his former employer.
Speaking at Tokyo's Narita airport he attacked the camera maker's directors saying they had paid fees to buy "Mickey Mouse" companies.
Mr Woodford said Olympus should not be delisted but it did need new management and offered to retake his old post.
He was sacked last month after blowing the whistle on irregular payments.
Olympus has since admitted to using merger & acquisition payments for decades to hide losses.
The Tokyo Stock Exchange put Olympus shares "under supervision" and warned the firm that it could be delisted.
The company said it would not be able to meet the 14 November deadline to submit its quarterly earnings report.
The Tokyo Stock Exchange (TSE) gave Olympus until the 14 December to produce the accounts or face being delisted from the exchange.
Organised crime
It was the first time that Mr Woodford, a British citizen, has returned to Japan since the director's meeting that ousted him.
He has cited safety concerns for his decision to leave the country.
"I was at risk because we didn't know who received the money. We still don't," he said on Wednesday.
Earlier this month, the UK's Serious Fraud Office (SFO) launched its own inquiry into Olympus, liaising with other organisations and international colleagues.