Mobile phone firms offer better service, Ofcom finds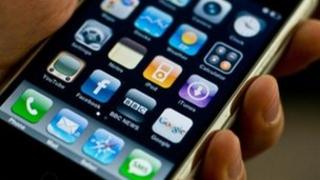 Consumers are more satisfied with their mobile phone provider than they are with landline or broadband suppliers, research has indicated.
Communications regulator Ofcom has conducted the latest of its regular samples of customer satisfaction.
Seven in 10 customers were happy with the service from their mobile provider - often after calling about their package or service.
However, for broadband and landline, about six in 10 were happy.
Rating
The Ofcom research featured interviews with 3,000 people in September to ask if they had contacted their provider in the previous three months and whether they were satisfied with the service they received.
In the fixed broadband and landline categories, Sky topped the satisfaction ratings.
Generally people contacted their landline provider to change the detail of the deal they signed up for. With broadband, connection speeds remained the biggest issue.
Customer service ratings for landlines had improved for BT, Sky and Talk Talk since 2009, Ofcom said.
However, on average, these satisfaction levels were still below those for mobile services, where O2, Orange and T-Mobile all received a 72% satisfaction rating.
"Ofcom hopes that this research will both incentivise providers to improve all aspects of their customer service, as well as giving consumers valuable information about the standards of customer service when choosing a provider," said Claudio Pollack, of Ofcom.
Ofcom rules state that providers must deal in a fair and timely way with complaints and that the process for making complaints is clear.
Customers not happy with a response, after their complaint has been in the system for eight weeks, can contact an independent ombudsman to adjudicate on the matter.