Chancellor to boost retail?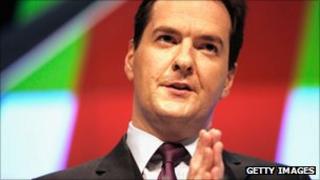 Many would say that the UK's main structural economic flaw is that year after year we consume more than we earn - which in turn explains why our collective indebtedness has been rising year after year, to dangerous levels (and please read UK's debts biggest in the world).
That is why the government is trying to reorient the economy towards investment and exports.
The Treasury's new subsidy for loans to small businesses, through credit easing, is part of that mission (see my post, Treasury subsidises small-business loans) - as is its long term plan to unlock £30bn of additional investment for UK infrastructure.
But the problem with being addicted to consumer spending is that the process of weaning-off is painful.
That will be glaringly obvious tomorrow when the Office for Budget Responsibility publishes its new massively reduced forecast for GDP in 2012.
In March it expected 2.5% growth next year. Tomorrow it will predict 1% or less.
Most of that reduction is because consumer spending, which represents two thirds of GDP, has been much weaker than it expected - in large part because the spending power of consumers has been savaged by rising inflation at a time of wage stagnation.
So I expect the chancellor to announce some kind of help for beleaguered retailers.
What I don't know is whether that will be help for the spenders - that's you and me, by the way - or for the receivers, consumer-facing businesses.
Either way, although the Treasury has taken the view that it wants retail to become a smaller part of the British economy, shrinking it too fast could kill the patient by tipping us into savage recession.
PS Here's the shameless plug: you can learn more about how we became unhealthily hooked on spending, and the life-or-death challenge we face of paying our way in the world, from a couple of films I've made, called the Party's Over, that will be broadcast on 4 and 11 December at 19:00 on BBC Two.
UPDATE 19.26: The help for retail will be help for all small businesses with properties, and retailers represent about three-fifths of these.
There will be an extension of six months to the end of March 2013 in the relief these operations receive from business rates.
So, companies whose premises have a rateable value up to £6,000 will receive full relief, and then there is tapered relief on premises with a value up to £12,000.
Apparently some 500,000 businesses see a benefit, of which 330,000 are retailers.
I don't suppose many of these businesses operate in expensive London, but then expensive London isn't experiencing the acute trading problems of much of the rest of the UK.
To be frank, this looks to me more like a measure designed to help battered high streets, than succour for consumer-facing businesses in general.