House price falls accelerate in October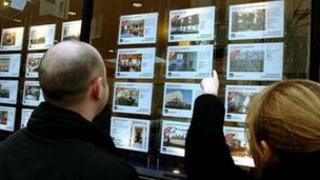 The pace of house price falls in England and Wales picked up in October, down 3.2% on a year ago, according to the Land Registry.
The average house price fell £2,020 to £160,000 in the month.
The report, which looks at 16 million transactions, said prices fell 0.9% versus a month earlier, faster than the 0.3% rate decline seen in September.
Prices also dipped in London by 1.6% in October, although they were still up 0.3% for the year.
That made the capital still the only region in the survey to have seen prices rise over the last 12 months.
The biggest year-on-year falls - of more than 7% - were in the North West and North East. Here too, prices fell more quickly in the last month, down 2.9% and 1.8% versus September.
Prices in Wales fell 3% in the month.
The price falls follow a summer in which transaction volumes rose, according to the Land Registry data, which records all actual home sales in England and Wales.
In August - the last month for which sales volumes are available - transactions rose slightly, with 62,000 properties changing hands, up 1% on August the year before.
But sales numbers slipped for higher-priced properties. The number sold for more than £1m in August fell by 7% to 714 from 764 in August 2010.
The Land Registry records completed property sales and features the end of the buying process when a transaction is registered.
It only measures the change in the price of properties that have been sold before, to ensure a proper comparison.