Hong Kong to extradite New Zealand bank error fugitive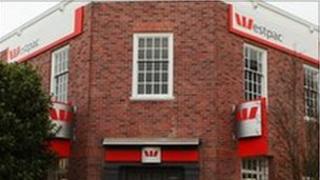 Hong Kong may soon extradite a New Zealand man suspected of withdrawing millions of dollars that were mistakenly deposited in his account.
Hui Gao was arrested in Hong Kong in September after two years on the run.
The application for extradition was granted on 27 October, an official at Hong Kong's Judiciary told the BBC, without giving further details.
Mr Gao, a New Zealander of Chinese origin, is wanted on theft and money laundering charges.
A New Zealand police spokesman told the South China Morning Post that Mr Gao was in custody in Hong Kong and the extradition process was underway but there was no time frame for his return.
Mr Gao had consented to be extradited, the report added.
'Accidental millionaires'
In 2009, Mr Gao asked Westpac Bank for an overdraft of 100,000 New Zealand dollars ($77,000; £49,000).
But the bank mistakenly put NZ$10m into his account.
The bank discovered its error within days but, by then, more than NZ$6m had allegedly been transferred to other accounts.
Police stopped Mr Gao as he entered Hong Kong from China in late September.
His former girlfriend, Kara Hurring, who left New Zealand with him in 2009, returned voluntarily to her home country in February.
She will face trial next year on charges of stealing theft and money laundering.
Before going on the run, the pair, who have become known as New Zealand's "accidental millionaires", ran a petrol station in the scenic town of Rotorua.