Asian stock markets continue rally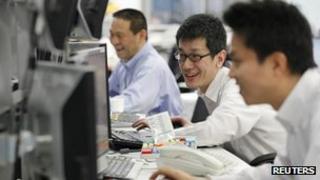 Asian stock markets have continued to rally after strong gains in the US and Europe on Monday.
Japan's Nikkei and South Korea's Kospi indexes closed up 2.3%, while Hong Kong's Hang Seng traded 1.4% higher.
US and European stocks rose on Monday after France and Germany proposed closer ties among eurozone economies, including binding limits on borrowing.
Markets hope closer union would give policymakers the tools to take decisive action to solve the debt crisis.
Fiscal union
"Some positive sentiment hit the markets which, after a recent steep decline, were offering good valuations and encouraging a temporary buy back," said Hirokazu Yuihama at Daiwa Capital Markets.
On Monday, Wall Street closed up 2.6%, while in the UK the FTSE 100 ended the day up 2.8%, Germany's Dax was 4.6% higher and France's Cac40 added 5.4%, led by banks and other financial stocks.
On plans for fiscal union, the German Finance Minister, Wolfgang Schaeuble, said his government was working closely with the French on the proposal.
"We are working intensively for the creation of a stability union," he said in a statement.
"That is what we want to secure through treaty changes, in which we propose that the budgets of member states must observe debt limits."