Asia needs more equitable job creation says ILO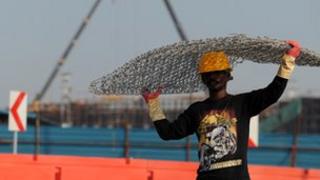 The International Labour Organization (ILO) has said, amid an uncertain global economic outlook, that Asian countries need to focus on equal job creation and improving job quality.
It also says wages need to be more fair, in a report released on Thursday.
Asian economies have seen robust growth, although now there are signs of a slowdown.
The ILO says that in this climate, the region must not lose the economic and social gains it has made.
Wide range
The ILO says that as the economy slows, job creation could also moderate at the end of this year.
It points out that there is great discrepancy when it comes to the number of new jobs being created in different countries.
For example in Hong Kong, Sri Lanka and Singapore, employment growth is about 4%, driven by services industry.
However, in Indonesia, the Philippines and more industrialised countries such as Australia and New Zealand, job growth is much less robust.
In Japan, the contraction in employment is in line with the number of people exiting the workforce, says the ILO.
This highlights the demographic challenges faced by some Asian countries with ageing populations.
Working conditions
However, job creation numbers can be deceiving, because in some countries most of the new jobs are of low quality.
In Sri Lanka and Thailand, data indicates, this is the case.
Workers in vulnerable employment, as the ILO calls it, are much more likely to have poor working conditions, lower wages and no social benefits.
The informal economy in emerging Asia is still very widespread.
The ILO says data suggests that informal employment as a share of total employment, excluding agriculture, is 42.3% in Thailand, 62% in East Timor, 62.1% in Sri Lanka and 68.2% in Vietnam.
The ILO warns that any recent progress in improving job quality or reducing the number of vulnerable employed in developing Asia could be reversed if there is a prolonged global economic slowdown.