Britvic profits bolstered by fizzy drink sales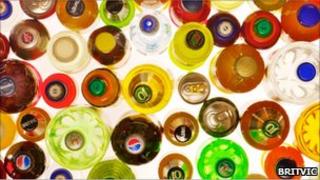 Profits at Britvic, the firm behind J2O and Tango, held up against "the economic turbulence" of 2011 according to chief executive Paul Moody.
Britvic reported full year pre-tax profits of £105.1m, up 0.5% from the previous year.
Mr Moody said that 2011 had been a year of "unprecedented" raw material inflation, which was between 9-11%.
He said there were difficult trading conditions and the outlook for 2012 remained "very challenging".
Fizzy drink volumes for the year rose 3%. This off-set a 1.8% fall in the volume of still drinks sold in the year.
International success
Britvic's French and US divisions did well. Last year the company bought Fruite Enterprises, now known as Britvic France. Nearly all revenue growth for the group was made by this division.
Revenues were up 14.6% for the group as a whole, but if the acquisition of the Britvic France division was stripped out, it fell to 0.8% growth.
Britvic is the UK's second-biggest fizzy drinks maker behind Coca-Cola. It announced a distribution deal with Pepsi Bottling in the US, which means Fruit Shoot will be manufactured there for the first time, rather then being shipped from the UK.
The soft-drinks maker also announced a distribution deal for its Fruit Shoot brand in Kentucky, Florida and Georgia, doubling its presence to six US states.
Chief executive Paul Moody said this was a significant development. "We are particularly delighted with the progress that we have made with the internationalisation of Fruit Shoot," he said.
Bad summer
Britvic is the UK's biggest supplier of still drinks. Its volumes were particularly hit in the UK by weak demand from pubs.
Over the summer, pub volumes fell by 10% and bad weather during Wimbledon impacted sales of its Robinsons brand, which is particularly associated with the event.
The difficult economic situation in the Irish Republic along with bad weather during the summer also hit profits at the Chelmsford-based firm.
The company said it had restructured the Irish arm of the business in the second half of the year, which Mr Moody said had reaped "clear benefits".