Foster's shareholders approve SABMiller takeover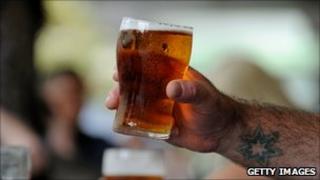 Shareholders in brewer Foster's have given the go ahead to a takeover by SABMiller worth $9.9bn Australian dollars ($10.2bn; £6.5bn).
More than 99% of shareholders voted in favour of the deal, after the Australian government approved the sale last Sunday.
The deal now only needs the approval of the Victoria state Supreme Court before being completed.
SAB expects the takeover to go through before the end of the year.
As a condition of the deal, management of Foster's operations and brewing facilities will remain in Australia.
"This is a historic day for this great Australian brewing company," said Foster's chairman David Crawford.
"While the ownership of Foster's will soon change, the beer and the brands will still be produced in Australia and be developed and brewed by Australians."
The deal between the two brewers was agreed in September, after Foster's rejected SAB's initial offer.
There have been talks of a takeover of Foster's since it announced plans to split in two last year.
The brewer spun-off its troubled wine business, which had been seen as deterring potential suitors.
Any purchase of Foster's by SAB will not include the Foster's lager brand in the UK and Europe, where it is owned by Heineken.