Eurozone manufacturing growth falls on global downturn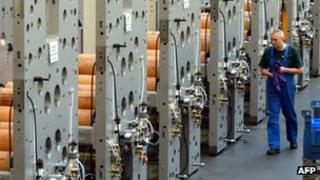 Eurozone manufacturing growth fell at its fastest pace for two years in November, a business survey has shown.
Markit's purchasing managers' index (PMI) of activity dropped to 46.4 last month, from 47.1 in October. A reading below 50 indicates contraction.
It is the fourth month in which the reading has fallen below 50.
Germany's manufacturing output fell at its fastest pace for more than two years, while France's reading was the lowest since June 2009.
Italian's factory activity shrank for the fourth month in a row, while Spain marked seven successive months of contraction.
Figures released on Wednesday show eurozone unemployment rate rose slightly to 10.3% in October, up from a revised 10.2% in September.
Howard Archer, chief economist at IHS Global Insight said: "We believe that the generally dire Eurozone purchasing manufacturers surveys provide significant support to the case for the ECB to cut interest rates next Thursday, as they show a fourth successive and deeper contraction in activity and muted price pressures."
The data comes after it was announced on Wednesday that the world's biggest central banks unveiled a plan to stimulate lending in a bid to stave off a second credit crunch.
The US Federal Reserve, the European Central Bank, and the central banks of the UK, Canada, Japan and Switzerland will take coordinated action from 5 December.