RBS sells its pub group Galaxy to Dutch brewer Heineken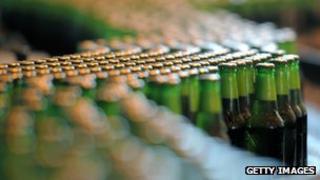 RBS has said it is selling its pub group Galaxy to Heineken for £422m.
The deal will see the state-owned bank sell 918 pubs which are located across the UK.
Heineken subsidiary Scottish & Newcastle (S&N) has managed the tenanted pub group since 1999 for RBS, who will receive £10m from Heineken to wind-up this existing contract.
Heineken say existing S & N tenants will be able to continue with their "business as usual".
"There continues to be an important role for the great British pub in the UK on-trade, and this acquisition is a significant vote of confidence in the channel," said Stefan Orlowski, Managing Director of Heineken UK.
"Owning the Galaxy freehold will allow us to continue the successful transformation of our pub business, concentrate on operational excellence and deliver long-term value from a high-quality, well invested pub estate."
Heineken, which is Europe's top brewer, saw weak growth in profits for the first half of 2011.
In August it warned that demand for its beer in its core Europe and US markets would remain "challenging" this year.