Eurozone service sector 'shrinks again'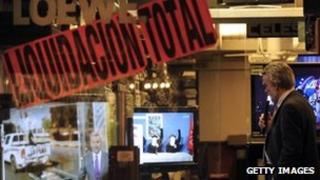 Eurozone service sector activity shrank further in November, led by a sharp contraction in Spain, surveys suggest.
Italian service-sector firms also continued to see a sharp fall in business, while Germany has stagnated.
The latest eurozone services Purchasing Managers' Index registered a level of 47, only slightly up from October. Levels below 50 imply falling activity.
The index, which is based on a business survey, adds to indications that the eurozone economy is in recession.
Spain turned in the worst result, where the index of activity in service sector firms fell to 36.8 from 41.8 a month ago, suggesting the downturn has accelerated in that country.
"Although the problems in the eurozone clearly impact on the Spanish economy, it is economic crisis and a lack of demand in Spain itself that is more widely reported as being behind the current downturn," said Andrew Hacker, economist at data firm Markit, who produced the survey.
Italy and France both reported continuing contractions in their service sectors, but at a reduced pace compared with October.
For the eurozone as a whole, the service sector has now shrunk for the third month running, according to the surveys.
"The overall level of confidence remains lower than at any time since March 2009," said Markit's chief economist, Chris Williamson.
"Service providers remained worried about the impact of the escalating debt crisis and the darkening economic outlook."
Combined with similar surveys for the eurozone's manufacturing sector, Markit said that the eurozone economy was on course to shrink by 0.6% in the last quarter of the year, with Italy faring worst.