UK service sector growth accelerates, says PMI survey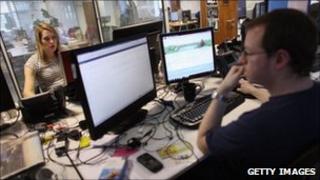 UK service sector activity picked up in November after falling in the previous month, although the rate of job losses was the fastest in 15 months, a closely-watched survey suggests.
The Markit/Cips services purchasing managers' index (PMI) rose to 52.1 in the month, up from 51.3 in October. Any figure above 50 indicates growth.
Business confidence, however, fell from its five-month October high.
The service sector accounts for about two-thirds of UK economic activity.
PMI figures for the eurozone suggested that the region's service sector shrank for the third month in row. The index rose to 47 in November from 46.5 the previous month.
Spain produced the worst result, with the index slumping to 36.8 from 41.8.
Debt crisis
The modest increase in overall activity in the sector was due to higher volumes of new work and a rise in marketing, the survey said.
However, there was some evidence that growth was curtailed by low bank lending and government spending cuts.
The eurozone debt crisis was also undermining confidence, Markit and the Chartered Institute of Purchasing and Supply said.
The rate of input price inflation also increased slightly, they added.
"The service sector saw a modest expansion again in November, holding up in the face of growing gloom at the health of the domestic economy and heightened uncertainty regarding the euro area's debt crisis," said Chris Williamson, Markit's chief economist.
"However, with manufacturing contracting at a steep pace, the weak growth in services means the economy is likely to have stagnated in the fourth quarter."
Last week, the PMI manufacturing survey suggested the sector had contracted at its fastest pace in 18 months last month.
The index fell to 47.6 in November, its lowest level since June 2009, from 47.8 in October.