UK manufacturing confidence falling away, says EEF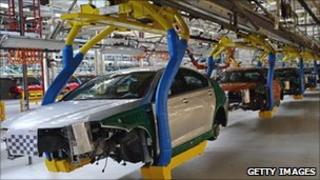 UK manufacturing activity has dropped in the past three months and short-term confidence in the sector has "all but fallen away", a survey suggests.
Exports continue to grow, but the domestic market is flat, the manufacturing organisation EEF said.
Concerns about the eurozone debt crisis and weak global economic growth were undermining confidence, it added.
As a result, the group has downgraded its forecast for growth in the sector in 2012 to 0.9% from 2.2%.
Output and orders have dropped from historic highs at the beginning of the year but are still close to their long-run average, the EEF said.
However, the survey found that manufacturers expected a contraction in order books in both domestic and overseas markets in the next three months.
"Manufacturing has been a key pillar in the recovery so far and it looks like the sector will still end the year on the up. However, short-term confidence has all but fallen away," said the EEF's chief economist, Lee Hopley.
"The signs of caution that had been emerging through the second half of this year have clearly become more entrenched as global growth concerns have escalated."
Last week, the closely-watched PMI manufacturing survey suggested the sector contracted at its fastest pace in 18 months in November.