Toyota chief Toyoda reveals 'fun to drive' fight-back plan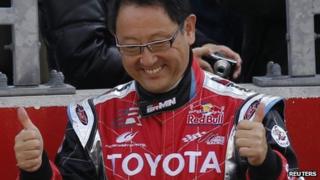 Dressed in a racing suit, Akio Toyoda, 55, comes across as a man of the people.
And not only of the people who work in the industry that his company dominates.
His frequent appearances behind the wheel of fast cars at race tracks, both in Japan and elsewhere in the world, seem designed to appeal to Toyota's customers as well.
"I have travelled repeatedly to the Nurburgring to understand European auto culture," grins the president and chief executive the world's largest carmaker by volume. "We have a lot to learn."
Mr Toyoda's new public persona marks a notable departure from his past, when many viewed him as a bean-counting businessman dressed in a grey suit.
These days, he comes across as passionate, yet humble - the perfect embodiment of the "car guy" that Toyota clearly needs at the helm as it gets ready to fight back against competitors such as General Motors and Volkswagen Group.
Both are snapping at their Japanese rival's heels, exploiting its weakness in the wake of a string of crippling crisis.
'Better cars'
The saying "it never rains, but it pours" seems apt as the Fuji Speedway circuit test track is drenched by the early winter rain.
It has been a bit like this for a while for Toyota.
"Since becoming president of Toyota," Mr Toyoda recalls, "we have been through a lot."
First there was the fallout from the collapse of Lehman Brothers, which sent Japan spiralling into recession.
Then there were the mass recalls of cars a couple of years back, that were followed by cringemaking testimonies to the US Congress by Mr Toyoda and other Toyota executives.
This year's 11 March earthquake, tsunami and nuclear energy crisis disrupted component supplies to carmakers and knocked Japan off its feet yet again.
Further pain was caused by recent floods in Thailand, which again disrupted parts supplies.
And to top it all, the current historically strong yen makes it almost impossible to make money from exporting cars from Japan, especially as sales volumes have plunged.
But Mr Toyoda - a descendant of Sakichi Toyoda who established Toyoda Automatic Loom Works, which later became Toyota Motors - remains defiant.
"Under all these hardships, one thing remained unchanged," he insists. "We continued to strive to make better cars."
'Fun to drive again'
One of them is the just-launched GT86, a relatively affordable sportscar that was penned, in partnership with Subaru's owner Fuji Heavy Industries, to help revive the battered Toyota brand.
Driving the car on the rain-soaked track, at the base of cloud-covered Mount Fuji, is a treacherous affair, in spite of its light weight and low centre of gravity.
When driven hard around the Formula 1 track's tight bends, the rear-wheel powered car delivers more than enough kick to make it a precarious experience.
It is also exhilarating, and it is this feeling of excitement rather than the GT86's overall performance that sets out the path for all Toyota's future models to follow.
The GT86 - or simply 86 or "Hachi-roku" as it is known here in Japan - is there to hint at how the carmaker aims to make Toyota's "fun to drive again".
"Even cars that are not sportscars bring acceleration and excitement to the people," Mr Toyoda says.
"If it's not fun to drive, it's not a car."
'Able to improve'
That may be so, though in reality many a former Toyota customer remains unconvinced about the carmaker's ability to deliver - especially following the company's much slated response to the recalls in the US in 2009 and 2010.
"I believe we have been able to improve," insists Mr Toyoda, referring to how the company has strived to become more open and transparent and to interact more with customers.
Toyota's management structure has also been shaken up, with Toyota in Europe and the US being granted much greater freedom from Japanese control.
Regaining trust in the US is vital, not least since the market there could see growth of some 8% next year, observes Jim Lentz, president of Toyota Motor Sales, predicting sales of some 13.6 million vehicles in the US next year, representing about a million more cars sold than this year.
By the middle of the decade, sales in the US should have returned to the 15-16 million level seen during the peak a few years ago, Mr Lentz predicts.
Design is key
One fight-back model designed to win back loyalty is Toyota's plug-in petrol electric Prius hybrid, which will go head-to-head with General Motors' plug-in Volt - although the two models' technologies are somewhat different.
Though looking ahead the carmaker will go beyond innovative technology and look more to design than it has in the past.
"Design is a very important, indeed increasingly important, element," says Takeshi Uchiyamada, Mr Toyoda's right-hand man in charge of Toyota's research and development of new models.
"So we are working to improve the design authorisation process to change from the way we were doing things in the past, when the designers had to make too many compromises to get approval. Even cars penned by overseas designers were returned to Japan for approval.
"From now on, we'll be telling the structural engineers not to restrict the designers, and there will be fewer managers involved in the decision-making process."
Much of this still belongs to an uncertain future, but one thing is clear: Toyota's rivals will be up against a carmaker very different from Toyota of the past.