Horse racing jumps at commercial opportunities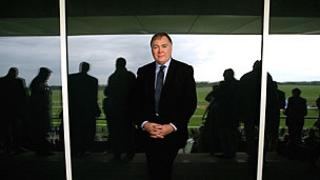 British horse racing is going through a period of change, one which offers the industry the chance to jump forward towards a better future.
Despite some misgivings about the final figure, the financial levy that the bookmaking industry must pay the sport has been negotiated for another year.
Horse racing also continues on many measures to be the second biggest sport in the UK, after football, and remains a massive employer and a massive generator of revenues for the Treasury.
It also hosts a series of events that are embedded in the national consciousness, including the Cheltenham Festival, Grand National meeting, the Derby Festival, and Royal Ascot.
And organisers hope that the newly-run British Champions Series, "the best of the flat season" featuring six of the top seven courses, will also become equally well-known.
Meanwhile racing is available as never before; on commercial and residential pay TV, in licensed betting offices, terrestrial TV, bookmakers online, online IPTV, iPad and iPhone.
"I would say it is a sport on the up," says Simon Bazalgette, chief executive of the Jockey Club, the largest commercial group in British horse racing.
"Racing is very good at... focusing on the negative, but if we step back and look at what's going on, there are a number of good issues.
"We are growing cash revenues, media revenues and attendances. TV viewing is going up. There are not many sports that can say that."
'Reversing trend'
Mr Bazalgette, 50, is probably the best powerful person in British racing, having entered the industry in 2004 when he joined satellite broadcaster Racing UK.
The Jockey Club, which he heads, is the largest racecourse group in the UK by courses, fixtures, attendances, prize money contributions and revenue.
And Mr Bazalgette said he cautiously welcomes the levy agreement this year, which will see bookmakers put up to £72.4m into the sport next year.
The British Horse Racing Authority, the official governing body of British horse racing, has said the payment is too low, and Mr Bazalgette admits: "It is still a long way down from where the numbers have been in previous years."
But he adds: "It has reversed the trend and has a level of underpinning that wasn't there before, when it was £10m to £20m off.
"It wasn't everything we wanted, it could have been better, but hopefully we can build on it.
"We can put more money into the race programme next year, which is good for everybody."
That, he says, means extra money that can be put into prize money which will help with the problems of small racing field sizes, which are unattractive to gamblers.
Prize money has been further boosted by a recent deal with betting exchange Betfair, which is giving £250,000 to grassroots racing in 2012 via the Jockey Club's racecourses.
The cash is being used as prize money, on top of the Jockey Club's own £15.7m record contribution this year.
"It is one of the key targets to get more prize money going into the sport, to keep that growth going," says Mr Bazalgette.
'Right partners'
One area where Mr Bazalgette has felt more could be done is in the field of sponsorship.
Some big names are already in the sport, include John Smith beer sponsoring the Grand National, Investec sponsoring the Derby, and Quipco the British Champions Series.
And the hope is that more commercial partners come on-board over the next four to five years.
"We are trying to bring racing up to scratch," says Mr Bazalgette.
"Our first corporate partner is Jaguar. There is very little sponsorship in that deal, it is about exposing our partners to Jaguar."
And last week the Jockey Club announced it had signed a three-year agreement for Thomson Sport to become its official travel partner.
The new partnership will see Thomson develop travel packages for some of the most popular racing fixtures staged at The Jockey Club's 14-strong portfolio of racecourses.
"Working with the right partners can help us to broaden our sport's appeal and keep growing," says Mr Bazalgette.
As well as major racing events and media income, a sizeable chunk of Jockey Club revenues come from non-racing activities, such as music nights, conferences and events.
At Sandown course there is the Surrey Hall Exhibition Hall, which is suitable for corporate entertainment, conferences, pr wedding receptions, and have the monies made there come from non-racing.
Epsom Downs course, home to the Derby, is another venue where sizeable revenues are garnered through use of the track's exhibition hall.
At the latter, where there are only 12 race meetings a year, it is important to bring in these non-racing revenues, and, as well as owning a hotel on the site, the course also hosts music concerts.
"We have something to appeal to everybody at our racing and music events," says Mr Bazalgette, referring to the events which are held across its racecourses, from smaller venues such as Carlisle to larger courses like Newmarket.
"This year we had 300,000 people go to these events," says former media mogul Mr Bazalgette.
Acts included Tom Jones, Blondie, Beach Boys, Scouting for Girls, Texas, the Wanted, Westlife, and Peter Andre.
Other initiatives include expanding horse racing's already extensive media coverage on different platforms, such as iPads.
The sport is fortunate in already owning its own pay TV channel, and having a national daily paper, the Racing Post, dedicated to the sport.
And Mr Bazalgette points to the nine million viewers who watched the Grand National race in 2011, more, he says, than for the FA Cup Final.
Now racing has launched an online gambling application called the Icard Predictor, which ties in with televised coverage on Racing UK, and is, says Mr Bazalgette, is "as reliable as any other tipster".
Consumer attraction
Meanwhile, a loyalty scheme has recently been launched which allows purchases at 350 retailers - such as Amazon, Halfords, Tesco and Marks and Spencer - to build up points which can then be used on racing visits.
"It is about getting someone who comes once or twice a year to come more often," says Mr Bazalgette.
However, challenges remain, and not just arguments about what the size of the UK gambling levy should be.
"One of the key things is that we are competing with racing in Ireland and France, with all betting money in France going back into racing," says Mr Bazalgette.
"That is why we have to make make our races a real event from a consumer point of view."