UK economic output loses five years, says NIESR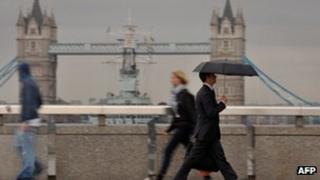 Economic growth in the UK "remains subdued" and output will not reach 2008 levels until 2013, the National Institute for Economic and Social Research (NIESR) has said.
NIESR said output fell to 0.3% in the three months to the end of November, from 0.4% in the quarter to October.
The think tank said that while the recession was over, the period of depression was likely to continue.
It also called for further economic stimulus in the UK.
"We do not expect output to pass its peak [of] early 2008 until 2013," NIESR said in a statement.
It says it interprets the term "recession" to mean a period when output is falling or receding, while "depression" is a period when output is depressed below its previous peak.
The latest official figures show that UK economy grew by 0.5% between July and September this year.
Print money
The think tank said its findings boosted calls for "the further loosening of UK monetary policy".
In October, the bank said it would inject a further £75bn into the economy by buying assets such as government bonds, in an attempt to boost lending by commercial banks - a process known as quantitative easing (QE).
The Bank has already pumped £200bn into the economy through QE.
Earlier, figures from the Office for National Statistics (ONS) showed the manufacturing sector shrank by 0.7% in October, its fastest monthly fall for six months.
Compared with the same month in 2010, output was 1.7% lower, again the biggest monthly drop since April.