Auto-enrolment: Brakes applied to pension reforms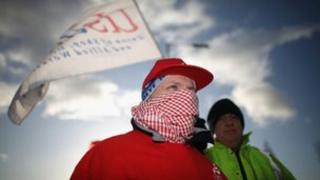 In November, the Pensions Minister Steve Webb announced that reforms designed to get millions more people saving through workplace pensions will now be brought in more gradually.
This follows the example of the previous government, which had already applied the brakes four times.
The reforms in question require employers to automatically enrol most workers aged between 22 and the state pension age, into a pension scheme with employer contributions.
As before, employees will still be able to opt out after being automatically enrolled.
People who just put off taking decisions or filling in forms will find themselves paying into a pension by default.
'Bleaker outlook'
When this idea was conceived, rising incomes were expected to make modest pension contributions appear manageable for individuals and employers alike.
Despite today's far bleaker outlook, the government has reaffirmed that the biggest companies must start the ball rolling in October 2012 as planned.
Employers of all sizes will eventually follow suit.
However, the Department for Work and Pensions (DWP) has now withdrawn previously published compliance deadlines for employers with fewer than 3,000 individuals in their largest PAYE (pay as you earn) arrangement.
The deadline change does not only apply to employers with fewer than 50 employees, as was widely reported thanks to a confusing government news release.
The change
The affected employers had been due to implement automatic enrolment between August 2013 and February 2016.
New enterprises would then have joined in by September 2016.
Only two details of the revised timetable for these small and not-so-small businesses are clear.
First, no employer with fewer than 50 staff will have to comply before May 2015 - 13 months later than some would otherwise have done.
Second, it will now be later than September 2016 before the new rules apply across the board.
How much later matters, because it is not until then that minimum contributions are due to increase from a very low starting point.
Later dates
Initially, employers must set the automatic level of contributions at 2% or more, including at least 1% which the employer must pay.
Because these rates only have to apply to a band of earnings, 2% is really more like 1.6% of total earnings for someone on an average wage.
Minimum contributions were due to rise to 5% (including at least 2% from the employer) in October 2016 and to 8% (including at least 3% from the employer) in October 2017.
The new later dates for these increases should be revealed in January.
Where does this leave employers and would-be pension savers?
Decisions needed
For the largest employers, it is full speed ahead.
The government says there will be no more changes to the timetable and, although the eurozone crisis means nothing is certain, companies must prepare on that basis.
This means continuing to navigate the labyrinthine rules surrounding automatic enrolment, some of which are not yet finalised.
If they have not done so already, employers must decide whether to communicate the value of their current pension offering to people who previously passed up a chance to join, or enrol them in another scheme, possibly less generous, that still meets the new minimum standards.
Employers with between 50 and 2,999 employees may be tempted to do nothing but, unlike the smallest firms, they cannot yet bank on a significant delay.
Should any employer prefer to enrol staff according to the original timetable, they can - but they will have to let the regulator know.
Affordable?
Nobody has to wait to be nudged towards a pension scheme to start saving for retirement.
The delays will not bar anyone from signing up to a company pension scheme that they are already eligible to join, nor from putting money aside in other ways.
Whether people feel they can afford to save is another matter.
The delays could have consequences for people likely to save in the new National Employment Savings Trust (Nest), which many smaller employers were expected to use for automatic enrolment.
Until Nest's set-up costs have been recovered, a £1.80 charge will be levied for every £100 contributed, on top of Nest's regular charges.
This supplementary levy had been expected to disappear by about 2030.
As it will now raise less in the early years, will it be needed for longer?
With living standards falling, it is difficult for politicians to suggest that we defer part of our income, especially if employers' contribution costs further depress wage growth.
However, although saving will be harder because the UK is poorer, it is no less necessary.
Tiptoeing more nervously towards a minimal level of pension provision will not keep us young.
The opinions expressed are those of the author and are not held by the BBC unless specifically stated. The material is for general information only and does not constitute investment, tax, legal or other form of advice. You should not rely on this information to make (or refrain from making) any decisions. Links to external sites are for information only and do not constitute endorsement. Always obtain independent, professional advice for your own particular situation.