Iberia pilots set to go on strike over low-cost airline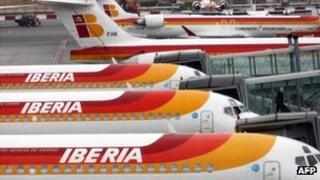 The union representing pilots at Spanish carrier Iberia has called for two days of strikes over plans for a new low-cost airline.
The walkouts are due to take place on December 18 and 29.
International Airlines Group (IAG), which now owns Iberia, plans to launch Iberia Express in the new year.
However pilots argue salaries at the new carrier will be too low. The pilots' union, Sepla, said Iberia had rejected its compromise proposals.
"Sepla has decided to adopt the last measure which we wanted to adopt: a strike," said union president, Justo Peral.
A vote on the strike will be held next week.
Iberia Express is due to launch in April 2012, and Iberia will allocate 40 planes to the new unit.
Pilots fear job losses with Iberia hiring new, different, staff at lower salaries.
The airline will handle short and medium range flights from Madrid, where Iberia has been facing increasing competition from other low cost carriers and high speed trains.
Unions representing other Iberia workers have decided not to take part in the strike.
IAG also owns British Airways.