S Korea and New Zealand keep rates on hold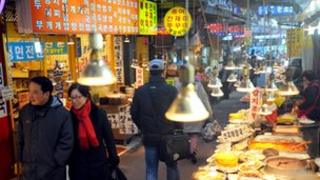 Central banks in New Zealand and South Korea have kept interest rates on hold, citing fears of the impact of the debt crisis in Europe.
New Zealand kept rates unchanged at 2.5%, while South Korea held its cost of borrowing at 3.25%.
It comes after Australia's central bank lowered interest rates on Tuesday.
Analysts said uncertainty in the global economy is now the top concern for some countries, even as prices remain high.
Decreased demand
In New Zealand, the central bank said it was taking steps to limit the impact of global economic problems.
"Given the unusual degree of uncertainty around global conditions and the moderate pace of domestic demand, it remains prudent for now to keep the official cash rate on hold," said Reserve Bank of New Zealand Governor Alan Bollard in a statement.
Mr Bollard said inflation was expected to fall within the bank's target of 1% to 3% in the three months to December.
But some countries in the region are more worried than others about decreased demand as a result of the eurozone crisis.
Earlier this week Australia cut interest rates by 25 basis points to 4.25%, the second cut in as many months.
The easing is aimed at boosting domestic demand, as the European debt crisis starts to affect global growth and trade across Asia.
Striking a balance
In South Korea, analysts said high inflation continues to be a worry.
However, the fears of a global slowdown have trumped high prices at this time.
"A rate cut is not an easy choice for Korea and emerging markets as inflation risks remain," said Lim Dong-min from KB Investments and Securities.
"I expect the Bank of Korea to continue to freeze rates and maintain its loose monetary policy until the economy stages a meaningful recovery."
Inflation in South Korea accelerated above the central bank's target of 4% in November and analysts said it could stay high for some time.