Mulberry trebles profits as demand remains high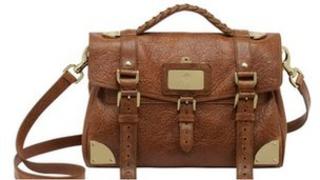 Luxury fashion group Mulberry has trebled its half-year profits thanks to strong retail sales.
The leather goods maker said that pre-tax profits rose to £15.6m ($24.5m) in the six months to September, up from £4.7m in the same period last year.
In early trading, shares in Mulberry jumped 2.5% to £15.31.
The Chilcompton-based firm has said it will build a new factory in Somerset to open in 2013, creating about 250 new jobs.
The company opened five new stores in the Asia-Pacific and opened a flagship store in New York.
Overall, UK retail sales increased for the period by 42% - with the luxury market remaining resilient to the decline in consumer spending felt on the High Street.
The company's revenue from outside the UK rose by 115%, to £29.4m, but the company warned about the impact of the eurozone debt crsis and weak economies in the developed world.
"The potential impact of the economic environment on consumers' spending habits makes the future more challenging," Mulberry said.