Plans for help with water bills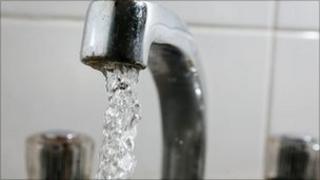 Vulnerable groups could receive greater help from water companies if they struggle to pay their bills, the government has said.
Water companies are designing social tariffs to help those on low incomes, such as some pensioners and lone parents, to begin in April 2013.
The plan is outlined in the government's water White Paper.
The current system only caps bills for households with three or more children or for some with medical conditions.
Bills
The current average combined water and sewerage bill for UK households is £356 a year. This is expected to rise by around 14% by 2030, although this would be below the level of the rising rate of inflation.
The government's White Paper suggests that metering could assist some people in cutting water usage and therefore their bills.
It said that more than a third of households have a water meter fitted, and this could rise to a half by 2015.
For those on low incomes, there is protection in place with schemes such as WaterSure. This tariff caps the bills of those eligible, and who have a meter, to the average bill from their provider.
In 2010-11, there were 45,336 households in England which came under the WaterSure system.
About 60% of these qualified because they were on means-tested benefits and had three children under the age of 19 in the property. The other 40% qualified because they had a medical condition which required the high use of water.
Customers benefit with an average discount of £120 on water and £125 on sewerage bills. This is funded by an annual payment of 35p each from other households.
The government has now called on the water companies to develop social tariffs to include other vulnerable groups who are not currently eligible. This could include the elderly living on their own.