Mortgage lending wilted in autumn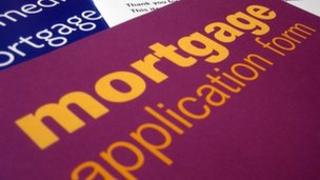 Mortgage lending was squeezed further in October - with 10% fewer home loans given to first-time buyers than in the previous month, lenders have said.
There were 44,500 mortgages advanced for house purchases in the month, a fall of 8% compared with September, the Council of Mortgage Lenders (CML) said.
Loans to first-time buyers fell by 10% and they had to find a deposit of 20% of a home's value, on average.
Mortgage lending has been subdued throughout the year.
However, with the end of stamp duty relief for first-time buyers coming in March, the CML said that there could be increased activity among first-time buyers at the start of next year.
The temporary exemption means first-time buyers are free from the 1% stamp duty on homes costing under £250,000 until March.
But the government suggested that the relief has been "ineffective" in getting more people onto the property ladder.
The CML figures show that the number of home loans advanced overall fell by 5% in October compared with a year earlier, and was down 1% over the same period for first-time buyers.