Shares fall as Moody's warns on EU policy plans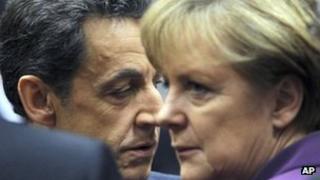 Moody's has said the EU has a "continued absence of decisive policy measures", despite last week's summit.
The credit ratings agency reiterated that it will review the ratings of all EU countries in the first three months of 2012.
Another agency, Standard & Poor's, is considering downgrading the debt of 15 of the 17 eurozone countries.
The news sent shares down sharply, with Germany's Dax index down 3.36% and in America the Dow Jones closed down 1.3%
France's Cac-40 and the UK's FTSE 100 benchmark indexes also saw sharp falls, down 2.61% and 1.83% respectively.
On Wall Street, the Dow Jones index closed down 162.87 points, or 1.3%, at 12,021. At one stage the index fell 243 points.
Moody's said that last week's EU summit offered "few new measures" to deal with the eurozone's sovereign debt crisis.
"The absence of measures to stabilise the credit markets over the short term means that the euro area, and the wider EU, remain prone to further shocks and the cohesion of the euro area under continued threat," the agency said in a statement.
French President Nicolas Sarkozy said that if France lost its AAA credit rating, it would be "one more difficulty, but not insurmountable".
"If they withdrew it, we would face the situation with sang-froid and calm," he told Le Monde newspaper.
Debt worries
Also on Monday, Greece was visited by the so-called "troika" of lenders from the EU, European Central Bank and International Monetary Fund.
They are due to discuss details of the new bailout plan, which is supposed to deal with Greece's debt problems.
There was slightly better news for Italy at its debt auction on Monday.
It sold 7bn euros ($9.3bn; £6bn) in 12-month bonds at an interest rate of 5.92%, down from the 6.09% it paid last month.
"This is still a high one-year rate at almost 6% with the ECB at 1%, so there is certainly dislocation there between where monetary policy is and where the front end of the Italian market is," said Padhraic Garvey at ING in Amsterdam.
"It's not a very pleasant set of circumstances for Italy and it's not sustainable."
The yield on existing Italian 10-year bonds rose to 6.58% on Monday from a rate of 6.33% late on Friday.